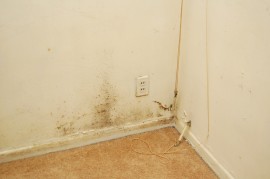 At one point in time or another, we have all seen mold around our homes. Even though you think you might be able to handle it all on your own, that isn't always the case. Removing mold is far more complicated and intricate than what you might think. Many people assume that they can tackle the nasty substance, but it is something best left to the pros. Don't waste time trying to handle mold removal on your own, no matter how little it might be.
Consider the benefits of bringing in a professional mold removal services expert to do the job for you:
Health Risks – There are numerous types of mold that are extremely harmful to pets and humans. In fact, these molds have been linked to a whole host of health problems ranging from allergies to asthma, respiratory distress and more. If you don't do the job right, it could end up far worse than what it should be. Instead of cleaning up the mess, you will actually end up spreading it around the home causing a number of allergic reactions and health complications.
Thoroughness – It doesn't matter how hard you scrub at the mold, you aren't going to be able to do as thorough of a job as one of the professionals can. They have all of the necessary tools and equipment to handle whatever task comes along. Their goal is to make sure no trace of mold or its spores remains behind in your property.
Agitating the Mold – Even though it might seem simple enough to remove the mold, it isn't always as easy as you think. If you were to agitate the area where mold is growing, you can end up sending tiny particles throughout the air for all to breathe. When you spread all of these microscopic spores into the home, it is only going to create more problems along the way.
Instead of having the mold contained in one area, it is now everywhere and all of the inhabitants in the home are affected more than what you realize. No need to increase the spread of mold when there is someone who can help to eliminate it from your home completely. Because of all the potential complications from the contaminant, you need to bring in someone who knows how to safely remove it from your property.
Playing Detective – Beyond dealing with the mold situation inside of your home, the professionals will also determine where the mold started in the first place. It doesn't do any good to remove the mold from the home if you aren't able to eliminate the cause of it.
Be smart about your situation. Call in someone who has the training and expertise to address your situation today.